About the Provider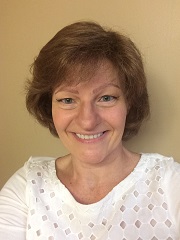 My name is Debbie Burke. I am a licensed family child care provider in the Seasons Ridge subdivision within the village of Montgomery Illinois. I provide child care out of my home and have been licensed for 22 years. I am CPR and First Aid certified. I provide full-time child care for children between the ages of 6 weeks and 5 years, specializing in infant and toddler care. I have a license capacity of eight, but prefer a smaller group and only provide for five or six children at a time.

I am committed to providing an inclusive child care program which promotes optimal development for each child, supports families and provides a community model for quality early child care.

In addition to being CPR and First Aid certified, I regularly complete child care training courses to remain current on a variety of child care topics. Below you will find a list of several child care trainings and certifications I have completed since 2003.
Trainings and Certifications
| Year | Training / Certification | Training Facilitator |
| --- | --- | --- |
| 2022 | An Overview of Early Intervention | CCRR |
| 2022 | Exploring Equity in Early Care & Education System | Starnet ISBE |
| 2022 | Communicating with Parents of Children with Challenging Behavior | Child Care Resource & Referral |
| 2022 | CPR/First Aid | American Heart Association |
| 2022 | Food Handler Training | 360 Learn2Serve |
| 2022 | Mandated Reporter | DCFS Online Training/Gateways iLearning |
| 2022 | Shaken Baby Syndrome | Gateways iLearning |
| 2022 | Sudden Infant Death Syndrome | Gateways iLearning |
| 2022 | Trauma -Informed Practice for Child Care Providers | Gateways iLearning |
| 2021 | An Introduction to Transitions | Gateways i-learning |
| 2021 | Breastfeeding University for Child Care Providers | Gateways i-learning |
| 2021 | Building Positive Social and Emotional Skills for all Children | Gateways i-learning |
| 2021 | Building Relationships to Support Inclusion in Early Childhood | Gateways i-learning |
| 2021 | Caring for Mixed Aged Children | Gateways i-learning |
| 2021 | Training for the Child Care Workforce | Gateways i-learning |
| 2021 | Illinois Early Childhood Inclusion Vision Statement | Gateways i-learning |
| 2020 | CPR Infant-Child-Adult & First Aid / AED | American Heart Association |
| 2020 | Emergency Preparedness | Gateways i-learning |
| 2020 | Early Math Matters - Math at Home Course 8 | Gateways ilearning |
| 2020 | Family-Community Engagement | Gateways i-learning |
| 2020 | Illinois Early Learning & Development | Gateways i-learning |
| 2020 | The Importance of Childhood Vaccination | Gateways i-learning |
| 2019 | A Preventable Tragedy : Shaken Baby Syndrome | Gateways ilearning |
| 2019 | Early Math Matters - Math at Home Course 1 | Gateways ilearning |
| 2019 | Early Math Matters - Math at Home Course 2 | Gateways ilearning |
| 2019 | Early Math Matters - Math at Home Course 3 | Gateways ilearning |
| 2019 | Early Math Matters - Math at Home Course 4 | Gateways ilearning |
| 2019 | Early Math Matters - Math at Home Course 5 | Gateways ilearning |
| 2019 | Early Math Matters - Math at Home Course 6 | Gateways ilearning |
| 2019 | Early Math Matters - Math at Home Course 7 | Gateways ilearning |
| 2019 | Food Handler Training | Learn2Serve Ansi Accredited |
| 2019 | Lead in Water: Protecting Illinois Children | Gateways ilearning |
| 2019 | Mandated Reporter | DCFS |
| 2019 | SIDS/SUIDS/AAP Sleep Safe | Gateways ilearning |
| 2018 | Heartsaver First Aid CPR AED | American Heart Association |
| 2017 | "What is CCAP?" Online Orientation | Gateways to Opportunity |
| 2017 | Adverse Childhood Experiences: Building Resilience | Penn State - Better Kid Care |
| 2017 | ECE Credential Level 1 - Module 1: Child Development Overview | Gateways to Opportunity |
| 2017 | ECE Credential Level 1 - Module 2a: Health Issues for Group Care | Gateways to Opportunity |
| 2017 | ECE Credential Level 1 - Module 2b: Nutrition Issues for Group Care | Gateways to Opportunity |
| 2017 | ECE Credential Level 1 - Module 2c: Safety Issues for Group Care | Gateways to Opportunity |
| 2017 | ECE Credential Level 1 - Module 3: Observation and Guidance | Gateways to Opportunity |
| 2017 | ECE Credential Level 1 - Module 4: Learning Happens in Relationships | Gateways to Opportunity |
| 2017 | ECE Credential Level 1 - Module 5: Family and Community Relationship | Gateways to Opportunity |
| 2017 | ECE Credential Level 1 - Module 6: Personal and Professional Development | Gateways to Opportunity |
| 2017 | ECE Credential Level 1 - Module 7a: Child Development (Birth to 8 Months) | Gateways to Opportunity |
| 2017 | ECE Credential Level 1 - Module 7b: Child Development (8 -18 Months) | Gateways to Opportunity |
| 2017 | ECE Credential Level 1 - Module 7c: Child Development (18 to 36 Months) | Gateways to Opportunity |
| 2017 | ECE Credential Level 1 - Module 8a: The Preschool-Aged Child: Social & Emotional Development | Gateways to Opportunity |
| 2017 | ECE Credential Level 1 - Module 8b: The Preschool-Aged Child: Physical Development | Gateways to Opportunity |
| 2017 | ECE Credential Level 1 - Module 8c: The Preschool-Aged Child: Language Development | Gateways to Opportunity |
| 2017 | ECE Credential Level 1 - Module 9: School-Age Development | Gateways to Opportunity |
| 2017 | ECE Credential Level 1 - Module 8d: The Preschool-Aged Child: Cognitive Development | Gateways to Opportunity |
| 2017 | Influenza Prevention and Control | American Academy of Pediatrics |
| 2017 | Reducing the Risk of SIDS in Early Education & Child Care | American Academy of Pediatrics |
| 2017 | Reducing the Risk of SIDS in Early Education & Child Care | American Academy of Pediatrics |
| 2017 | Understanding Toddlers | Penn State - Better Kid Care |
| 2017 | Welcoming Each and Every Child | Gateways to Opportunity |
| 2016 | Caring for Mixed-Ages of Children | Inccrra |
| 2016 | Food Handler Training | American National Standards Institute |
| 2016 | Heartsaver First Aid CPR AED | Amercian Heart Association |
| 2016 | Madated Reporter Training | DCFS |
| 2016 | Shaken Baby Syndrome (SBS) | Inccrra |
| 2016 | Sudden Infant Death Syndrome (SIDS/SUID) | Inccrra |
| 2015 | Achieving 21st Century Skills through Project Based Learning | Penn State Extension - Better Kid Care |
| 2015 | Chidhood Obesity Prevention: LMCC - Increase Physical Activity | Penn State - Better Kid Care |
| 2015 | Child Assessment: An Introduction | Penn State Extension - Better Kid Care |
| 2015 | Child Development: An Introduction to Learning Theories | Penn State Extension - Better Kid Care |
| 2015 | Childhood Obesity Prevention : LMCC - Limit Screen Time | Penn State - Better Kid Care |
| 2015 | Childhood Obesity Prevention: Let's Move! Child Care Introduction | Penn State - Better Kid Care |
| 2014 | A Good Night's Sleep: How Sleep Affects Health | Penn State Extension - Better Kid Care |
| 2014 | Active Children are Learning Children | Penn State Extension - Better Kid Care |
| 2014 | Child Care Resource and Referral | Child Care Resource and Referral |
| 2014 | Childhood Obesity Prevention: LMCC Support Infant Feeding | Penn State Extension - Better Kid Care |
| 2014 | Illinois Child Care Bureau-Food Program | Food Program Review |
| 2014 | Infant/Child/Adult CPR Certified Heartsave AED/First Aid Certified | American Heart Association |
| 2014 | Influenza Prevention and Control in Early Child Care | American Academy of Pediatrics |
| 2013 | Activities for Learning Math | Penn State Extension - Better Kid Care |
| 2013 | Are you Ready for an Infant | Penn State Extension - Better Kid Care |
| 2013 | Art Appreciation for Young Children | Penn State Extension - Better Kid Care |
| 2013 | Avoid Behavior Problems | Penn State Extension - Better Kid Care |
| 2013 | Beahavior is Contagious | Penn State Extension - Better Kid Care |
| 2013 | Building Relationships with Children who Challenge Us | Penn State Extension - Better Kid Care |
| 2013 | Changing Spaces | Penn State Extension - Better Kid Care |
| 2013 | Child Care for Mixed Ages | University of Illinois Extension |
| 2013 | Medication Administration | American Academy of Pediatrics |
| 2013 | Preventing/Managing Infectious Diseases | American Academy of Pediatrics |
| 2013 | What Children Need to Know to Start School | Penn State Extension - Better Kid Care |
| 2012 | Large Motor Development | Perpetual Preschool |
| 2012 | The Importance of Block Play | Perpetual Preschool |
| 2012 | Vitamin Basics | Illinois Child Care Bureau-Food Program |
| 2011 | Choose Whole Grains Everyday | Illinois Child Care Bureau-Food Program |
| 2011 | Civil Rights CACFP Guidelines | Illinois Child Care Bureau-Food Program |
| 2011 | Fruits and Veggies-More Matters | Illinois Child Care Bureau-Food Program |
| 2011 | Mandated Reporter | DCFS Online Training |
| 2011 | SIDS:Sudden Infant Death Syndrome | Child Care Resource and Referral |
| 2010 | Civil Rights Compliance for Child Care Providers | Illinois Child Care Bureau-Food Program |
| 2010 | Creative Art for Preschoolers | The Perpetual Preschool Workshops |
| 2010 | Fit Kids-Happy Kids | Illinois Child Care Bureau-Food Program |
| 2010 | Healthier Kids-Less Salt | Illinois Child Care Bureau-Food Program |
| 2010 | Kids in the Kitchen | Illinois Child Care Bureau-Food Program |
| 2010 | Nutrition Fun for Preschoolers | The Perpetual Preschool Workshops |
| 2009 | Art Appreciation 101 for Yound Children | University of Illinois Extension |
| 2009 | Large Motor Development for Preschoolers | The Perpetual Preschool Workshops |
| 2009 | Sparking Kids' Curiosity | University of Illinois Extension |
| 2009 | The Value of Play | The Perpetual Preschool Workshops |
| 2009 | Understanding the Picky Eater | Illinois Child Care Bureau-Food Program |
| 2008 | I Want! I Want!! I Want!!! Building Good Consumers | University of Illinois Extension |
| 2008 | Improving Transition Times | University of Illinois Extension |
| 2008 | Science for Young Thinkers | University of Illinois Extension |
| 2008 | What Does "Time" Mean to Children | University of Illinois Extension |
| 2008 | Whole Grains for Kids | Illinois Child Care Bureau-Food Program |
| 2007 | Getting Ready for Business Administration Scale Quality Counts: Quality Rating System | Child Care Resource and Referral |
| 2007 | How to Turn Good Play Into Great Play | University of Illinois Extension |
| 2007 | Jump-Start Your Day the Breakfast Way | Illinois Child Care Bureau-Food Program |
| 2007 | Math for All Ages | University of Illinois Extension |
| 2007 | Problem Solving With Children | University of Illinois Extension |
| 2007 | Protecting Our Kids from Disaster | University of Illinois Extension |
| 2007 | Teaching Children Healthy Eating Habits | Illinois Child Care Bureau-Food Program |
| 2007 | Using the Record Keeping System | Illinois Child Care Bureau-Food Program |
| 2007 | Your #1 Priority-Keeping Children Healthy and Safe | University of Illinois Extension |
| 2006 | Obese Kids: They are What They Eat | University of Illinois Extension |
| 2006 | Fighting Children's Obesity Through Active Play | University of Illinois Extension |
| 2006 | My Pyramid for Kids | Illinois Child Care Bureau-Food Program |
| 2005 | Activities and Healthy Snacks to Keep Our Children Moving | llinois Child Care Bureau-Food Program |
| 2005 | Changing Spaces in the Childcare Setting | University of Illinois Extension |
| 2005 | Heart Health for Children | llinois Child Care Bureau-Food Program |
| 2005 | Serving a Balance of Fitness, Food and Fun | llinois Child Care Bureau-Food Program |
| 2005 | Special Care/Needs Training | Child Care Resource and Referral |
| 2004 | Dealing with Anger - The Children's and Yours | University of Illinois Extension |
| 2004 | Feeding Infants | USDA Food and Nutrition Service |
| 2004 | Illinois Child Care Bureau-Food Program | Summer Food Safety |
| 2004 | Tackling Childhood Obesity | Illinois Child Care Bureau-Food Program |
| 2003 | Improving and Using Your Observation Skills | University of Illinois Extension |
| 2003 | Making Meal Time Memories | Illinois Child Care Bureau-Food Program |
| 2003 | The Power of Play | University of Illinois Extension |